Birthday Parties
Let the Onside Team take the hassle away from organising your child's next Birthday party.
Our trained coaches can deliver a fun and action packed couple of hours of Multi Sports, Football or Dance. Our parties are great for any child of Primary School age and can be tailored to your child's individual needs. If you would like to book or speak to our party co-ordinator then please call us today or complete our party enquiry form.
We will supply:
Sports Coaches
Equipment
Supervision for the entire party
Fun filled and inclusive sports, games and dance routines
Flexible party numbers
depending on venue size and activity
You will need to:
Book the venue
advice and options can be given
Cake
Food
Party Bags
Idea of cost:
Party for up to 15 children is approx. £110
1 coach (additional cost for more coaches)
Party for up to 30 children is approx. £160
2 coaches (additional cost for more coaches)
For the Big Kid in you!
We also organise big kids parties too! Great for birthday celebrations with a difference, reunions, charity events, work get togethers, or team building challenges.
For an idea of what we can deliver - imagine teams in fancy dress competing in fun sports tournaments and games, with barbecues and refreshments, smiles, laughter and of course great memories!
Previous events' themes have included:
Back to school sports days, international sports competitions and fun Olympic Games among others.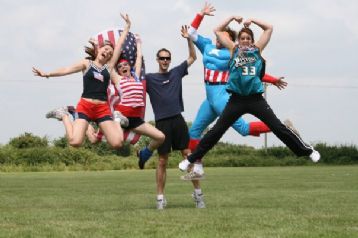 Idea of cost:
Big kids parties are completely bespoke so please use our Party Enquiry Form or get in touch for more information.